10 Years of Niseko Powder with Glen Claydon
Many would say Glen Claydon has the best job in the world or, perhaps, the best office.
The 2015/16 season marks his 10th in Niseko as a professional photographer, and over the course of his career in Japan he's teamed up with countless visitors to the snowy region—virtually all with the same plan. To search for, find and capture the best powder conditions on the planet.
Glen has the relaxed nature of someone who spends a good chunk of his life in the mountains, but beneath the calm persona is a passion for his craft and an infectious love for the place he now calls home.
He first visited Niseko in 2002, and initially began photographing the region as an amateur. His trips became more frequent over the next few years as he grew increasingly fascinated and attached to the region. In early 2005, a friend in the village began asking to use his images commercially, marking the birth of his career in professional photography and prompting a full-time move to Niseko the following year.
Through the following series of photos, Glen shares some of the magical moments from his career so far.
Matt "Fatty" Hill – Moiwa soul turn December 25, 2005
The first snowboarding shot I was really pleased with. The arc of turn, the laid back surf style...capturing the freeride floating magic we all experience when flying down a steep and deep line through perfect powder.
Josh Clark – Grand Hirafu, December 28, 2006
One of those days when the sun makes an appearance after weeks of relentless snowfall, and the resort is transformed into one massive playground. Josh was the first rider I had the chance to shoot who could seemingly do whatever he wanted on a board—spin frontside or backside, ride switch or any grab. In this shot he was spinning a corked 360.
Monzen – Hanazono, February 13, 2007
A perfect cold mid-February day with Monzen gliding through the waist deep powder off "The Peak" down towards Hanazono. Timeless.
Levi – 'Back Bowl' into Annupuri Resort, January 5, 2008
This shot happened by pure chance. Levi had a rare day off from instructing with NISS and I bumped into him on the hike up the peak and we decided to do a couple of shots. After all these years this is still probably one of my best shots. The tracks in the distance are from Moiwa.
Nick – Mt. Yotei, March 4, 2008
My first ever hike to the summit of Mt. Yotei. Hiking with two skiers—Nick and Miles, I huffed and puffed my way up, stopping too often to take photos. By the time I made it to the top my hiking buddies were frozen after waiting more than an hour. The ride down was magic and I still think about that sunset descent. Nick skied like a champion and I really hope to see him over here again soon.
Annupuri Mountain range, February 21, 2010
Fresh tracks peeling off the top of Mt. Chisenupuri, with Mt. Mekkunai in the distance.
Tim – Niseko backcountry, February 7, 2009
This shot was taken deep in the Niseko backcountry after driving hours with Niseko Snowcat Adventures on a mission of exploration and true adventure. We saw this huge mushroom stack and Tim was keen to give it a go. He totally nailed it for the shot then popped left onto the side mushroom.
Christie – Niseko Hirafu, January 18, 2011
Niseko is famous for tree skiing and Christie absolutely rips through the trees and always looks good. I don't get the chance to shoot with women enough and I hope that changes this season.
Jesse – Mt. Yotei, January 19, 2012
When everything comes together on Mt. Yotei. This was an exceptional day with amazing views, perfect snow and no wind. Jesse's powder trail just hung in the air for 10 seconds after he blew by for this shot.
Nick – Niseko backcountry, February 26, 2013
Nick took me to this random spot in the middle of nowhere the day after he had been shooting here with the Japan Journals crew. Trying something a bit different, I climbed up a tree and used a fish eye lens and shot Nick at the apex of his jump. Good times.
Higashiyama Cherry Trees, January 11, 2014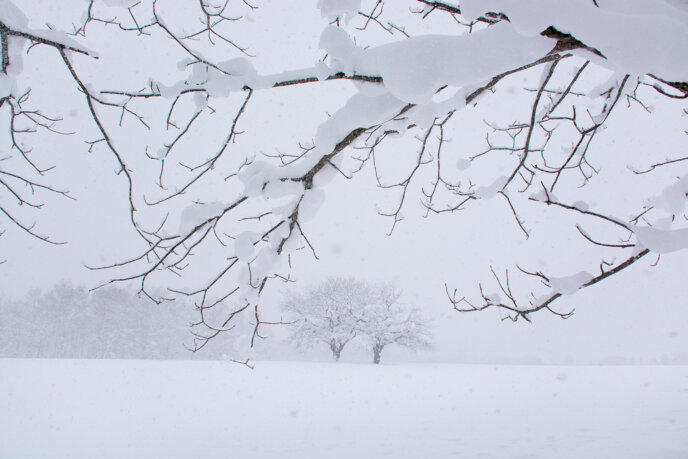 This is one of the most popular photo spots in the Niseko area. The two cherry trees draw photographers throughout the seasons. Shooting in winter can be a challenge especially in January when it really dumps. This shot for me captures the feeling of being surrounded by snow—I love the way the snow is accumulating delicately even on the smallest branches.
Seth – Shiribetsu-dake, March 9, 2014
Shooting with Warren Miller Entertainment from the Hokkaido Backcountry Helicopter was a career highlight. Shooting two-time US Olympic gold medalist Seth Westcott rip five top-to-bottom runs in perfect snow was incredible. He didn't do any amazing jumps or tricks just full-throttle speed, style and control.
Working with Warren Miller's veteran cameraman was an eye opener. While harnessed into the helicopter with the door off and feet dangling over the edge, Chris directed the pilot with the headphones and Seth with a two-way radio, making shots like this overhead one possible.
Ned – Moiwa, February 10, 2015
On what must have been the day of the season for me, an unexpected super dump produced waist to chest deep light fluffy snow. I just love Ned's expression as he gasped for air coming out of a massive overhead face shot.
Glen Claydon Photography is available for action and portrait shoots on and off the mountain as well as personalised photographic tours of the region. Visit glenclaydon.com for details.