9 Essential Tips For Good Mountain Etiquette
Stay in the know with these essential tips for mountain etiquette so everybody can enjoy the slopes together.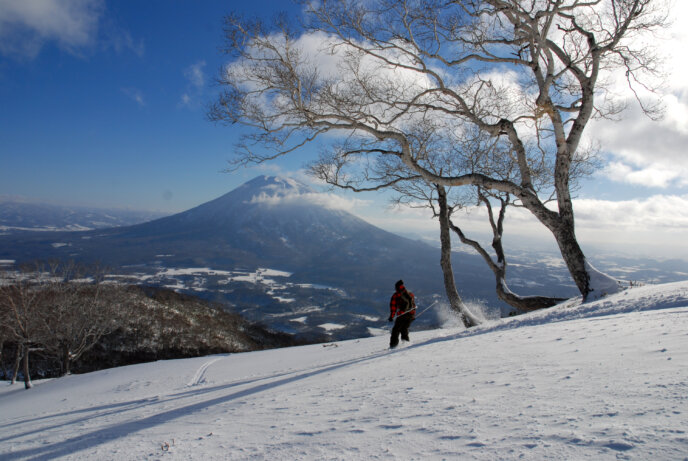 With now less than one week to go until the scheduled opening of the Grand Hirafu lifts in Niseko, what better time to get up to speed with the must-know tips on mountain etiquette. That's right, there's such a thing as mountain etiquette, so it's best to know it! It's important to know so that when you're out on the slopes everybody on the mountain can have great riding experience. Whether you're a first timer coming to Niseko or a long-time rider, take note of these essential tips for a great winter season on the slopes.
Stay in control
There is nothing more important than staying in control on the slopes. Nobody likes to be scared by a speed demon flying past them. If you decide to ski or snowboard fast, it is important that you have sufficient control, so that you do not cause any situations that might harm yourself, or someone else.
Priority on the slope
The beauty of snowboarding and skiing is that they are free activity sports, where everyone is allowed to move where they please, as long as they abide by the rules and adapt their skiing and snowboarding to their level of ability.
When you're on the slopes, it's important to bear in mind the skier or snowboarder in front (below) has priority. Therefore, the skier moving behind (above) must keep sufficient distance between themselves and the other skier or snowboarder so that the person in front has plenty of space to make all of their movements freely.
Places to stop
It is not recommended to stop in the middle of the slope in most cases. The only exception to this rule is when the slope is really wide, and not too busy. In any case, it is recommended to stop on the side of the slope, in places that are visible from above. Most importantly, try not to sit down in blind spots; these are usually places where the slope suddenly gets steeper, and people higher up the hill will have a hard time spotting what is below them.
Reading the signs
There are several signs to be found on the slopes. The most common and well-known signs are black, red, or green. These colours indicate the difficulty of the slope, with black being the most difficult and green being the least challenging.
Some other signs will show directions or give warnings of danger or closure. A sign closing a piste, just like one pointing out danger, must be firmly observed.
Go with the flow
Moving against the general direction of other skiers or snowboarders on the mountain can pose problems for all. Always pay extra attention when two slopes intersect. The people on the other slope might have difficulty spotting traffic coming from different directions.
Wait in the queue
Jumping the queue is not a nice thing to do. While you might want to head up for another run as soon as possible, but you will not be the only one with this mindset. Plan your lunch on a different time than most, and you will find smaller lift lines!
Take a lesson if you are a beginner
It is advised to take a lesson if you are still a beginner or first timer. It will make your holiday a more pleasant experience, as it will set you off on the right foot. Instructors will help you with a step-by-step approach that will get you ready for the slopes as soon as possible!
Respect others
Remember that not everyone might be as comfortable as you are on the slopes. With a mix of beginners, right through to advanced levels out on the mountain, it's important to give all skiers and snowboarders their space, so that everyone comes back from the slopes with a giant smile on their face!
Respect the mountain
The mountain has feelings too! Be respectful and don't leave any trash on the slopes. The only thing you should leave behind on the mountain are the fresh tracks you made!