Action Packed Chinese New Year Line-Up In 2017
Bringing in the Year of the Rooster here in Niseko! Find out where to go for your fix of Chinese New Year celebrations.
Chinese New Year in Niseko
Chinese New Year is always an exciting time here in Niseko and festive celebrations have really been ramping up over the past few years. With everything from fireworks to lion dances, Niseko has really started to become a hot-spot of festive spirit over Chinese New Year. This year will be no different with a range of exciting events scheduled across the Niseko resorts. We have put together a guide to help find your way to the events both near and far!
Chinese New Year events in the Hirafu area
Saturday, January 28, 2017
3:00 pm - sunset event time
The Vale Niseko has a range of kids activities from 3:00 pm including face painting and cotton candy, candy floss, or fairy floss (depending on where you are hailing from). The days activities will be topped off with a performance by Yotei Daiko at sunset. Yotei Daiko are troupe of Taiko drummers from the surrounding Niseko area.
Saturday, January 28, 2017
5:30 pm and 7:00 pm performance times
Following up on the sunset Yotei Daiko performance, the Vale Niseko has scheduled two performances from the award-winning Shinkotoki Tenburyujin, a troupe of Yosakoi Soran dancers. The first dance will be at 5:30 pm and a second will be performed at 7:00 pm.
Saturday, January 28, 2017
1:30 pm - 4:00 pm - Igloo making
4:00 pm - 4:15 pm - Lion dance
4:15 pm - 5:15 pm - Snow lantern making
5:30 pm - 5:45 pm - Lion dance
4:15 pm - 6:15 pm - Live performance by Jazz Min
Ki Niseko has set up a line up of five events to span all of Saturday, February 28th. Their line up includes a range of activities for both children and adults and even has a few truly Hokkaido activities on offer. Make sure you check out the igloo making and snow lantern making as they are pretty rare opportunities unless you live here in Hokkaido. Snow lanterns are a popular staple at winter festivals across Hokkaido and opportunities to make them are often reserved to Hokkaido locals!
Sunday, January 29, 2017 - Friday, February 3, 2017
3:00 pm - 4:30 pm event time

Saturday, February 4, 2017 - Final Unveiling
Spanning across the full length of the Chinese New Year holiday period, award-winning artist Koichi Murai will be painting live in the Ki Niseko lobby. For an hour-and-a-half each day, Koichi Murai will paint bit-by-bit until the painting is fully finished. The final piece will be unveiled on Saturady, February 4, 2017 and the piece will be displayed in Ki Niseko's lobby. Swing by and watch him work or view the final piece on the 4th!
Chinese New Year events in the Hanazono area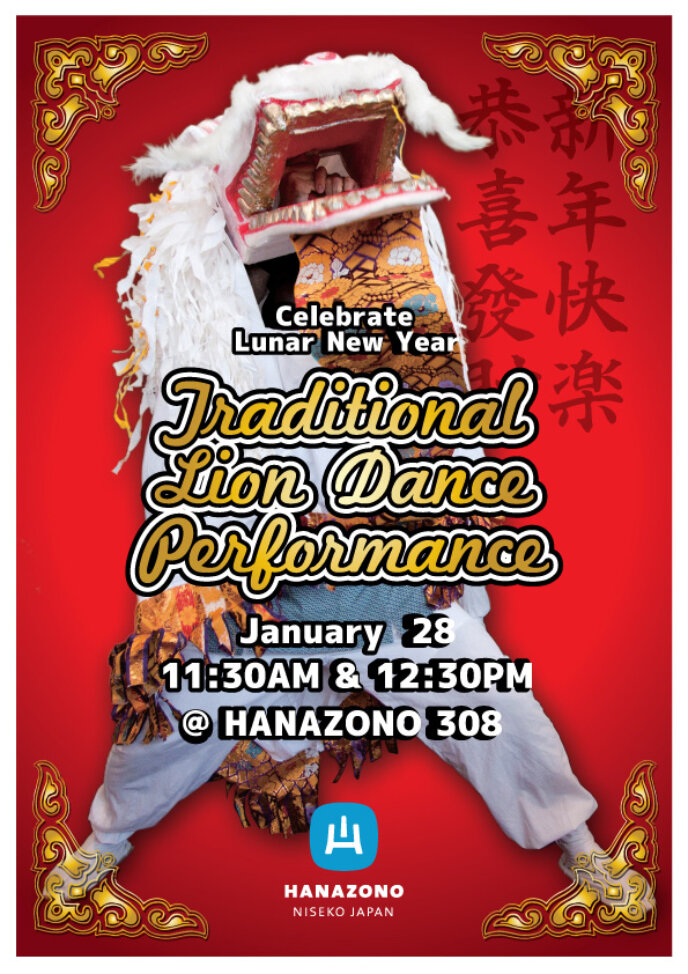 Saturday, January 28, 2017
11:30 and 12:30 performance times
If you are in the Hanazono area on January 28 and are looking to get your Lunar New Year fix, Hanazono 308 will be hosting a pair of traditional 'shishimai' lion dance performances.
Chinese New Year events in the Niseko Village area
Friday, January 27th, 2017
Celebrate Chinese New Year with a bang! Catch a spectacular firework display after the sun has gone down beyond the mountain line. Fireworks will be subject to weather conditions.