Get into the Backcountry with Andrew Spragg
An inside look at the backcountry experiences to be had in Niseko and Hokkaido from the perspective of one of Niseko's most experienced backcountry guides.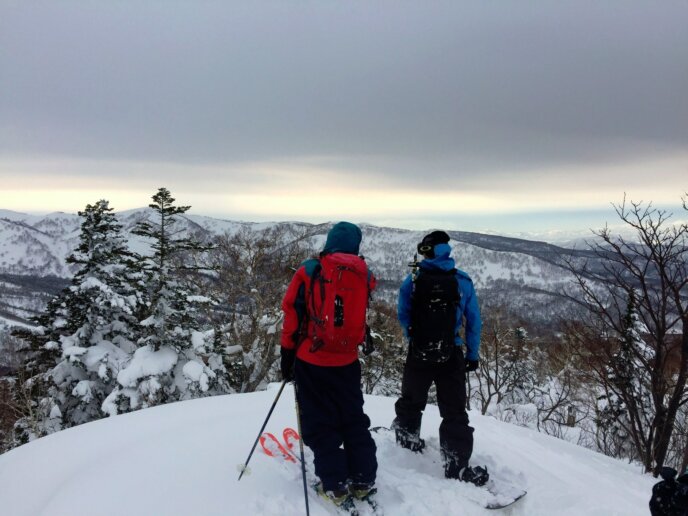 Andrew Spragg of Rising Sun Guides was kind enough to provide us with an inside perspective on backcountry here in Niseko and Hokkaido. Andrew has been spending time here in Niseko, Japan, for the last eleven years and when he isn't out in the backcountry guiding, he is helping to develop greater awareness of backcountry risks and aiding resorts across Hokkaido to develop safe regulations to help increase access to backcountry across the island.
Hailing from Western Canada, he grew up with easy access to the snow and spent much of his earlier years out in the backcountry. An unfortunate avalanche incident led Andrew to re-evaluate his own skills and subsequently set him off on the path that led him to where he is now. Part of the original partnership that created one of the areas first backcountry guiding operations, Andrew now owns and operates Rising Sun Guides and will be based in Niseko.
Have a read through our interview with Andrew, as he provides us with a powerful reminder about safety in the backcountry, as well as a few of his favourite places to go and find amazing Hokkaido powder!
Experience Niseko: Let's start with a brief description about your background - where you're from, how you came to be working in Niseko, your journey into backcountry skiing.
Andrew: I grew up in Calgary skiing in the Rockies and started backcountry skiing early. Then tragedy struck and an avalanche killed several kids in my high school. It was a terrible event but for me, it provided the eye opener I needed to recognize how hazardous backcountry travel can be. I took a couple of years away from backcountry skiing and moved west to Vancouver for University. Before long though I was skiing in Whistler and started taking avalanche courses so I could return to the backcountry with a greater awareness of the risks and some tools to help mitigate them.
I first visited Japan in 2003 on a one-week holiday, and after 7 days of being shown the best powder, great food, onsens and Japanese culture, I knew I needed to come back for a longer stretch of time. I explored a few options including a guiding position in Hakuba and English teaching but when I had a chance to move up to Hokkaido to help build one of the most respected guiding companies in Niseko today, Black Diamond Tours, it was an opportunity I couldn't turn down.
EN: What inspired you to start Rising Sun Guides?

Andrew: I've had a blast taking guests to the goods around Hokkaido for the last decade and can`t think of anything I would like to do more. Rising Sun is my opportunity to keep doing what I love to do as the sport develops and as Japan becomes an increasingly backcountry friendly place to ski/ride powder. I look forward to a bright future and many more smiles in the years to come.
EN: What do you see as your main point of difference at Rising Sun Guides? Why do you feel that people should choose a trip with you rather than another backcountry operation?

Andrew: From a safety standpoint, we aim to employ the most qualified guiding team in Hokkaido and maintain a rigorous snow safety program. We also strive to be as flexible as we possibly can with our guests and I have found this to be the key to offering the best possible experience. Lastly, we are constantly looking for new terrain to share with guests and have more than few tricks up our sleeves.
EN: Do you have any advice for those visiting Niseko and wanting to get into the backcountry for the first time?
Andrew: If you have backcountry experience, are trained in avalanche hazard assessment, and are confident travelling in the backcountry alone then check in with us for an update on conditions before you head out. We produce a daily stability forecast for our operation and are happy to share it within anyone looking for reliable, up-to-date information on conditions in the mountains. Our forecast covers a broader zone than the Niseko avalanche bulletin, so it is particularly helpful if you are planning to ski tour in another area. Remember to keep your ego in check, monitor conditions throughout the day and don't forget how quickly the weather can change. We can see clear skies deteriorate to white out conditions in a matter of minutes and getting lost in the mountains can be just as hazardous as an avalanche.
If you don't fall into that category, either contact a reputable guiding operation or sign up for an avalanche course. We offer AST 1 and 2 courses with curriculum and certification provided by Avalanche Canada. These courses create the foundation for you to begin safely exploring the backcountry recreationally and I can't stress enough the importance of taking a course before you head into the backcountry.
EN: If you had to pick a few favourites, and we know that can be tough to do, what would you say are your favourite areas to ride, both in-resort and in the backcountry?
Andrew: There's so much great skiing in Hokkaido, but a couple of my backcountry highlights would have to be Mt. Yotei and, of course, just about anywhere in the Daisetsuzan mountain range. More than anything though, I like checking out new places. One of the best things about backcountry skiing is the ability to go just about anywhere in the mountains, explore different terrain and find new lines.
EN: How do you think Niseko compares to other ski resorts in the world? How do you feel it lines up against what were your local mountains when you grew up in Canada?
Andrew: From a snow standpoint, I have never seen anything that can compare. Our snowfall totals here in Niseko are impressive, but they only tell part of the story. The other element is the incredible quality of the snow and the amazing consistency with which it comes down. Most heavy snowfall areas have big dump cycles followed by comparatively long periods of stable weather. In Niseko, if 2 or 3 days go by without a fresh top up, we start getting restless. That is not normal anywhere else—period. I come from Western Canada and grew up under the impression that I came from a place that gets a lot of snow. Then I came to Hokkaido and found out what heavy snowfall is all about.
I've been lucky to call places like Whistler, Lake Louise, and Sunshine my home resorts and there is no question that they offer big mountain terrain right off the lifts. Sometimes I miss that, but its hard to complain when you have the snow that we have here in Niseko and Hokkaido. And of course, if you put in a little hard work, there are plenty of steeps, chutes, and big lines to be found all across Hokkaido, too.
EN: Niseko has grown rapidly over the time that you've been here. How would you like to see it develop going forward and what role do you think Rising Sun Guides will play in the progression?
Andrew: Niseko has definitely changed and progressed significantly over the years, and I think the resort managers and business leaders in the community are slowly coming together to help Niseko take its place as a world-class destination resort.
For me and Rising Sun, the focus is on how backcountry access is managed and I look forward to continuing to work with the resorts as they develop effective management policies. Niseko recognized the need for a management policy back in 2002 and, with the establishment of the Niseko Rules, became the first area in Hokkaido to openly permit backcountry access. In recent years, it has been great to see other areas like Rusutsu, Kiroro, and Furano work with the ministry of forests to develop their own policies. The next step is for the resorts to bring their varying policies in line with each other to create a clear, easy-to-understand system that is the same across all the resorts. Throughout this transition, we aim to provide constructive feedback to the resorts as well as communicate their policies to resort users.
We also look forward to working with the various avalanche and guiding associations to hopefully start developing a regular, regional avalanche forecast available in both English and Japanese to ensure that timely and accurate information is available to all backcountry users.
EN: Which other areas around Niseko would you recommend exploring?
Andrew: Everywhere! Niseko is a great starting point, but there is so much to see and do across the island of Hokkaido. That's what our multi-day trips are all about and we spend most of our winters criss-crossing the island and following the snow.
EN: What's your favourite thing about Niseko, or Japan, that is completely unrelated to skiing?
Andrew: How different everything is. Japan made it most of the way through history without much Western influence, often pursuing different logic to arrive at many of the same and also many different conclusions. On the surface everything looks pretty similar, but in so many cases it's not. I've been here for eleven years and still consistently find myself surprised by everyday events. It can be frustrating if you let it, but instead I find these situations provide a great opportunity to step back and look at things from a new perspective.
The bottom line is that Japan is a great country and I consider myself lucky to be able to call it home.
Rising Sun Guides
Rising Sun Guides is a professional backcountry guiding company that offers backcountry tours and educational packages including Avalance skills training courses taught be industry professionals. They offer a range of set guided trips, flexibility for custom packages, and their educational programs as well.
For more information regarding Rising Sun Guides, please see their website here.