Cherry Blossom Season is Nearing
Spring is when you get to see beautiful flowers start blooming and Japan is the most famous place to see iconic pink cherry blossoms (Sakura).
Japan has a number of great cherry blossom viewing spots and Hokkaido offers some special ones along with its incredible nature.
Get all the information you need to see beautiful cherry blossoms during your spring stay here in Niseko.
When Does it Bloom?
One of the most important things to consider when trying to go cherry blossom viewing is to know when is the best time to do it.
Hokkaido is located in the north part of Japan. Because of this, the cherry blossom happens a bit later than the other parts of Japan, and normally begins at the start of May. However, as this winter has been warmer than usual, the blooming will most likely be sooner, even as early as around mid-April. 
Where Are The Best Spots?
Now that you know when will be the best time, get to know all the beautiful places that are highly recommended for cherry blossom viewing.
1. Makkari Shrine
Makkari Shrine is an old shrine for Shintoism. Not only it is one of the most famous shrines among Niseko locals, it has a beautiful path lined up with about 60 cherry blossom trees that you can follow to get to the main shrine.  Mt. Yotei will be right in front of you too.
2. Fukidashi Park
Located in Kyogoku Town, Fukidashi Park is a beautiful park with one of the purest spring waters and Mt. Yotei close by. In the spring, their big cherry blossom trees bloom which makes the park even more magical. Enjoy cherry blossom viewing here while having a very relaxing time.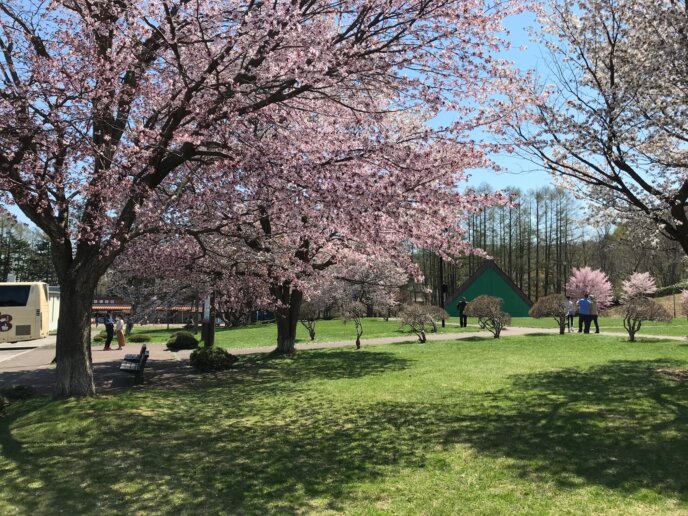 3. Miyayama
This is a hidden cherry blossom viewing spot, yet one of the best.  You can see thousands of cherry blossoms that were planted by locals that love Niseko. They have planted 100 cherry blossom trees that added up to more than 1000 now. This is all volunteers' work done by people who wish to let everyone know that Niseko is such a wonderful place with incredible nature. 
4. Hakodate
Take a two and a half hour drive from Niseko to Hakodate for cherry blossom viewing. In Hakodate, Goryokaku Park is highly recommended. The Sakura here are beautiful to visit when the sun is out, but are also enjoyable at night time as about 450 lanterns light the flowers while hanging from the tree.
5. Lake Toya
Lake Toya is a part of Shikotsu-Toya National Park, which is located in around one and a half hour's away from Niseko. There, you can enjoy not only cherry blossoms viewing by the beautiful lake, but also driving or cycling around it, feeling the nice spring breeze.
Why Are They So Special?
In Japanese culture, cherry blossom viewing has become one of the biggest annual events. What makes cherry blossoms so special comes from its beauty as well as its short life span. Cherry blossoms are very fragile, so when the wind blows, they fly away easily. The full bloom can only last for a few days in the entire year, so it needs to be much appreciated before they are gone, which is also the beauty of cherry blossoms.
Cherry blossoms viewing is enjoyed by families and friends, picnicking by cherry blossoms trees. It is a fun time as people can finally stay outside with good drinks and food after a long winter under one of the most beautiful flower trees in the world.
Enjoy Japan's national flower blooming in this Spring, and have a time as precious as the beautiful cherry blossoms!
--
Find out all there is to know about Hinamatsuri, the Japanese celebration on March 3rd which is steeped in history and superstition.