Day Tripper
Discover stunning coastal drives which rival the world's greatest ocean roads, crystal clear lakes created by ancient eruptions and Japanese flavours unlike those you'll find anywhere else.
Niseko stands as a fantastic destination for a summer holiday in its own right, but it's also the perfect central location for day trips to lesser-known yet equally incredible locations in Hokkaido. There is plenty to see, do and taste within a few hours from Niseko.
Shakotan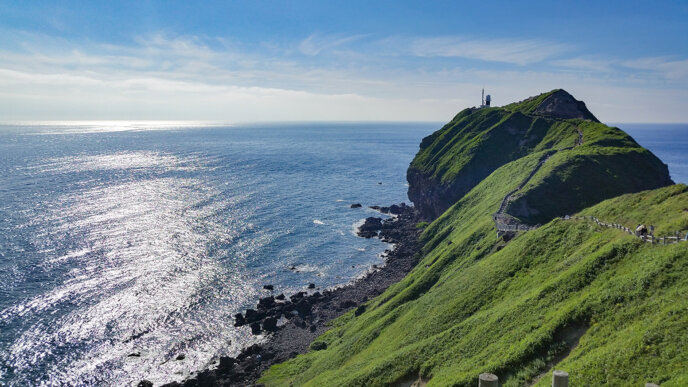 On a sunny summer's day, few coastlines in Japan, or indeed the rest of the world, can claim to be as breathtakingly beautiful as the Shakotan Peninsula. The coastline on Hokkaido's western edge is blessed with the bluest of oceans, jutting capes and bright green clifftops.
For the best photo opportunities, make sure to visit Cape Kamui and walk to the end of the point which extends out almost impossibly in to the ocean. And don't miss Shimamui Beach for unrivalled views of the Sea of Japan and a stairway which takes you down to the water.
But the scenery is just the start of the Shakotan story.
The food is certainly the next chapter. Uni (sea urchin) is a famous delicacy in Japan, and Shakotan is widely regarded as the number-one place to get it. Freshly caught that day and served up either as sushi or on a bowl of rice, tasting the creamy flavour and smooth texture of uni is a must when in Shakotan. The Tamura Gantaro Shoten restaurant is one of the top places to do so. 
Shakotan is absolutely perfect for a day trip from Niseko but for those who would like to soak it up at a slower pace, the coastline is dotted with camping spots, most free to use with great shared facilities and walking access on to the beach. Surf lovers will also find some swell along the Shakotan coastline, with gentle but rideable waves available when wind conditions suit.
Yoichi
Move over Scotland, there's a new leader on the world whisky stage…Japan! And the best place to get the best Japanese whisky? Just a little over an hour's drive north of Niseko at the Nikka Whisky Distillery in Yoichi. 
The Nikka Whisky distillery was founded in 1934 by Masataka Taketsuru, a Japanese man who travelled to Scotland at a young age to become a master distiller. He returned to Japan and grew to become the father of Japanese whisky making. We won't give away too much more of that story, but will leave it to you to find out on a self-guided tour of the distillery.
The award-winning distillery is still in operation, pumping out thousands of litres of the liquid gold for global distribution each year. But it also has a museum feel, with its history written on the walls for all to see. There is a gift shop where you can pick up a great bargain on a high-quality bottle of Nikka Whisky and treat yourself to some free whisky samples too.
Though Yoichi has more to offer than just the whisky distillery. The Yoichi Space Museum is a quirky attraction which celebrates Japan's history in space exploration, including scale models of international space stations and the Hubble telescope. And for a lovely day out in the sun, the fruit picking season at Yamamoto Fruit Farm runs from June to October.
Lake Toya
One of Hokkaido's most popular summer destinations is Lake Toya, and for good reason too. This enormous lake, created millennia ago by a volcano eruption is the second most transparent lake in all of Japan, making for incredible sightseeing and photography.
In the middle of the lake are four picturesque islands, the largest of which measures 9.6km in circumference. These islands can be reached by a regular ferry from the lakeside onsen towns of Toyako and Sobetsu.
On the edge of the lake stands Mount Usu, one of Japan's youngest and most active volcanoes. Its eruption in the year 2000 created brand new craters which can be viewed from several walking trails or on the popular Usuzan Ropeway. All this geothermal activity is great for onsen lovers, as many onsens around the Lake Toya area harness mineral rich thermal water for their hot spring baths.
For those in to on-water activities, Lake Toya is also great for fishing, canoeing and standup paddleboarding.
--
Summer in Niseko. It's everything. Under the sun. 
Check out our Summer in Niseko video today and find out why!