First-Timer's Guide to Niseko in Winter
All the tips, suggestions and ideas you need to have a safe and fun winter stay in Niseko!
1) When to travel to Niseko for your first time
Niseko is known world-wide for having amazingly dry and light powder snow; it is also known world-wide for having a lot of that powder snow—an average of 15 meters per season in fact! For anyone new to winter, it can be a bit overwhelming when over a meter falls in short succession, while for others this can be seen as the holy grail of ski trip weather.
For a first time skier or snowboarder, most of your time will be spent on the groomed ski runs. You won't be venturing out the gates and into trees or into deep powder so travelling during the peak powder periods is not really a factor that you need to worry about as much.
The struggle with powder snow can extend beyond the ski fields too. Some first-timers often find it tough to cope with walking through deeper snow for the first time, delays in transit times which can affect air and ground travel, and the lack of sunny days that comes with all that snowfall.

It might be best to consider travelling to Niseko either in the early winter or after the major holiday peaks as there is less snowfall, the days are warmer and the slopes are open—all good things when first learning to ski!
The last two factors to consider when choosing when to travel are cost and service availability.
Hotel and accommodation rates in the Niseko area typically vary depending on the demand. Peak times, like Christmas, New Year's Eve and Chinese New Year tend to be more expensive than off-peak times in March or April.
Some services can reach capacity during peak times and reservations for the most popular restaurants can book out very quickly. Traveling during off-peak times can make it easier to make some of these arrangements, but don't forget that it is always recommended to book well in advance!

For all of these reasons, more and more first-time travelers to Niseko are choosing to come in March and April—cheaper hotel rates, more restaurants availability, more lesson availability and plenty of sunny blue-sky days for those all-important selfies with Mt Yotei!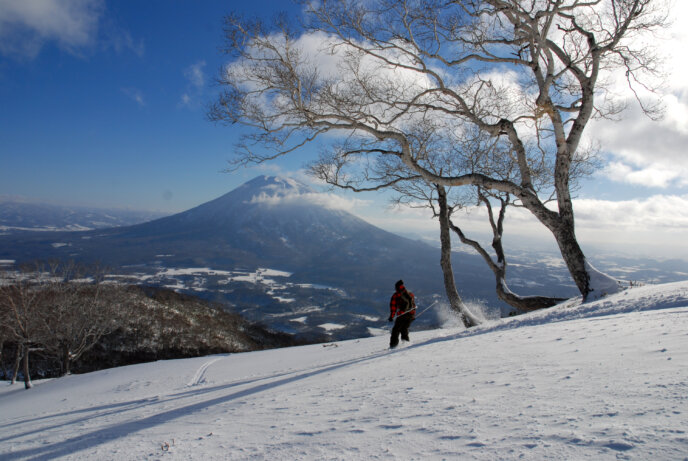 2) Which Niseko-area resort to choose
There are four resorts that make up Mt Annupuri's Niseko United resort, this is the heart of Niseko. In addition, there are a handful of other popular resorts not far away, including Rusutsu, Moiwa and Kiroro.
If you are coming for your first time, you will find the most infrastructure, variation in services and foreign-language support in the four main resorts. Niseko-Hirafu, Annupuri, Niseko Village and Niseko-Hanazono are all connected by the Niseko United Shuttle Bus as well as from the top of the mountain.
Of the four resorts, Niseko-Hirafu is the largest, with about 60% of the ski runs and the most accommodation options, restaurant choices, and number of lifts.
3) When to book your accommodation in Niseko
It is always better to book early! Accommodation providers typically begin taking reservations between March and April for the following winter season (this does vary by company and season slightly).
If you are looking to travel over either the Christmas-New Year's Eve peak or the Chinese New Year's peak, be prepared to send out your booking requests in spring because these travel dates are highly sought after. Some hotels and accommodation providers will book out their peak seasons within a couple months or even weeks of opening.
Spring, March and April, by comparison tend to book up much slower and are also easier on the wallet. You will have more flexibility to wait out for good deals on flights. We have been seeing increasing numbers of guests traveling at these times, especially families traveling in line with spring school vacation, so it might not be long before it becomes more competitive for certain times in spring.
Most hotels and accommodation providers offer early-bird discounts too, giving you the chance to secure your accommodation at the best available rate.
4) Important tips to keep in mind when booking your accommodation
There are a lot of different factors to consider for when you are choosing your accommodation provider and a few things to look into regardless of who you proceed with. The main factors to consider are:
Cost
Location
Services and Amenities (such as concierge services, food and beverage facilities, in-house onsen, etc).
Regardless of who you end up picking to book through, make sure you look into appropriate travel insurance. With any big international trip, cancellation of flights, accommodation and services can be costly and it is well-worth the added security and peace of mind. Even if you aren't cancelling your trip, changes to your travel plans can occur for any number of reasons (personal, weather delays, etc.) and these too can put a dent in your wallet if you aren't covered.
5) What to do in Niseko
6) When to book services for your stay
As with booking your accommodation, services can fill up very quickly—especially over peak season. Even in off-peak times, availability for services such as private lessons and private transfers can disappear fast. Services typically start to become available for reservation over the course of the summer months.
Many hotels and large accommodation providers in Niseko have a guest services or concierge team to help you sort out things like lessons and transfers. You will still need to let them know which services and activities you want to reserve during your stay, so it is always a good idea to try and let them know either when you are enquiring or shortly after you have confirmed your booking.
If you book through a travel agent or an online travel agent you might have to take care of your service bookings yourself.
Remember to get your restaurant requests in as early as possible too—especially for the popular restaurants!

7) How to book services directly
If your accommodation provider doesn't have a concierge service or you prefer to handle your service reservations personally, here are a few tips to help you make sure you get the services you are looking for:
Do a comprehensive search for all the options available, we have a range of different services listed on our website, so this can be a good place to start!
When enquiring, keep in mind that depending on the company or restaurant you are contacting, there might be limited English support. When booking in and around the Niseko United resorts, there is usually a much higher level of English support, but the further you go off the beaten path the trickier it can get (don't let that discourage you, as this can often lead to some of the most exciting adventures and experiences).
As with the above, if you are enquiring on your own, it is best to enquire early. Many service suppliers in and around the village will open up early over the summer season and start taking bookings. If they haven't opened yet, they can usually tell you around what time of year they will be open for bookings. Peak times get competitive, so make sure you move quickly!
Tips to make the most of your stay
Dress Warmly! Wear lots of layers, this doesn't apply to skiing only!
Make sure you try an onsen, or two, maybe five?
Go for a walk around the village at night.
Go for a 'nighter'. The slopes are less crowded and the night view can be very beautiful.
Make sure you give yourself the chance to try as many different restaurants and types of food as you can.
Take a look at our Niseko bucket list for more ideas!