Niseko Bucket List Challenge
How many can you complete this year?
Niseko is full of awesome things to do, many of which you can't do anywhere else in the world! Take a look through our Bucket List, with 66 exciting challenges so far and see how many you can cross off next time you are in the area.
Sightseeing and Photography Challenges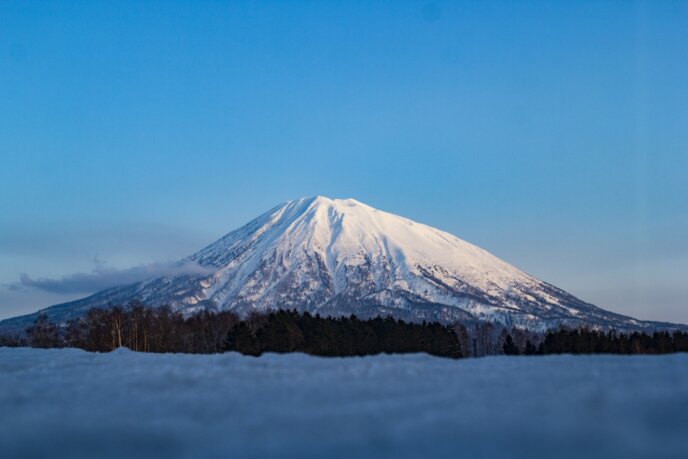 Mt Yotei
A trip to Niseko is not complete without taking at least a dozen photos of Mt Yotei. The conical mountain has a near perfect shape which greatly resembles Japan's most iconic mountain and has earned Yotei the nickname Ezo Fuji.
Mt Yotei makes an incredible subject to shoot. You can drive all the way around it and find new angles to explore or you can visit it throughout the year to watch all kinds of colours envelope the mountain as the seasons pass.
Take a photo of Mt Yotei with sakura (cherry blossoms) in full bloom.
Take a photo of Mt Yotei when the snow starts to creep down and trees are in full autumn foliage.
Take a selfie with Mt Yotei.
Take a summer photo standing on a bale of hay with Mt Yotei in the background (we recommend over at Milk Kobo).
Take the same photo (angle and vantage point) of Mt Yotei in each of the four seasons.
Take a photo of Mt Yotei with a full moon in frame.
Take a photo of Mt Yotei reflecting in a rice paddy.
Take a photo of the Niseko Panorama Line when the trees are in full autumn foliage.
Take a photo relaxing luxury-style in your accommodation and post it to Instagram (don't forget to tag us @experienceniseko and your accommodation provider).
Take a photo of Niseko-Hirafu when it is lit up at night during the winter.
Take a photo of snow mushrooms (they form on river rocks during the winter season).
Take a photograph of a wild fox (just don't touch it).
Take a photograph of sundew plant with a bug stuck to it's sticky leaves.
Food and Drink Challenges
One of Japan's biggest draws is the food. Here in Niseko there are so many amazing restaurants and specialty dishes to try that you will run out of time before you get to taste everything!
Specialty dishes like soup curry, the freshest seafood in the country and the best ice cream in Asia are just a few of Hokkaido's many culinary claims to fame. For more tips on what to try in Hokkaido, check out our blog on Hokkaido cuisine.
Noodles
Try Niseko Ramen's Potato Ramen (one-of-a-kind in Japan).
Try a bowl of Sapporo-style ramen at Aji no Tokeidai in Kutchan Town.
Have your photo taken and get it placed on the wall for eating one of Otsukisama Bar Moon's super spicy ramen bowls.
Wait in line for a seat at Rakuichi Soba's to enjoy some of their soba for lunch.
Have ramen, soba and udon all in the same day.
Sushi and Seafood
Hit up Kutchan Town's sushi train, Yoteimaru, and pick one of their most expensive sushi plates at least once.
Go to a really fancy sushi restaurant (there are many to choose from here in the area).
Head out to Iwanai Town or Otaru City and find a sushi restaurant where you can get something that was caught fresh that morning.
Eat uni (sea urchin) in Shakotan Town when it is at its freshest (May to August).
Eat a bowl of ikura don (salmon roe over rice).
Try a plate of takoyaki (fried octopus balls).
Order a dish with some of Hokkaido's legendary crab.
Take a picture of the best meal you have during your trip and be sure to share it with us (we want to know all your favourites).
Eat a Japanese-style breakfast (fish, rice and miso soup).
Eat at one of Niseko's Michelin star restaurants.
Alcohol
Yoichi Town has a long brewing past. Nikka Whiskey is one of Japan's oldest and best-known whiskey brewers. The distillery and museum are located a short walk from Yoichi Train Station and make a great day trip at any time of year. There are over ten wineries in the town as well. They are more scenic during summer, but you can still visit many of them during the winter as well.
Go to one of Yoichi's wineries during summer and buy their most expensive bottle (second most expensive is okay too, it's just not as cool).
Go on a summer wine tour through Yoichi and enjoy as many different kinds of wine as you can.
Take a bottle of Yoichi wine or Nikka Whiskey home as a souvenir.
Take the train out to Yoichi Station and walk to the Nikka Distillery and Museum so you can safely sample the whiskey at the end of the tour.
Visit Kutchan Town's Niseko Shuzo Brewery and pick up a bottle of nihonshu (sake).
Try all of Niseko Brewing Company's craft beers when you stay in Niseko.
Order 'atsukan' hot sake during your next winter stay.
Taste test Sapporo Black Label (regular) and Sapporo Classic (only available in Hokkaido).
Take a trip into Kutchan Town and pick out a couple Japanese craft beers from Lucky Supermarket's craft beer section.
Culture Challenges
Onsen
Sore muscles from skiing? Head to the onsen. Spent the day with the kids and need some quiet time? Wind down in an onsen. Take a look at our onsen listing to see how many different hot springs there are to choose from.
If you are feeling like exploring a bit further out, Jozankei (midway between Niseko and Sapporo), Lake Toya and Noboribetsu are also blessed with an abundance of onsen.
Go to at least three different onsen when you stay in Niseko.
Go to an onsen with an outdoor bath in a blizzard.
Try every bath at Rankoshi Town's Konbugawa Onsen.
Visit a gensen kakenagashi (all natural) onsen.
Go to a mud onsen, such as Yukichichibu or Boken Kazoku's secret mud onsen.
Take part in a tea ceremony at the cultural conference centre and gallery, Somoza.
Learn how to make an authentic Japanese-style meal with a cooking class at Eri's Kitchen.
Check out a live culture display, such as iaido. Different displays occur occasionally throughout the year.
Try on the after onsen robes that are provided for you when you stay at an onsen hotel.
Active and Adventure Challenges
Mountains
The Mt Niseko Annupuri peak has the best vantage point in all of Niseko. We rank it even higher than Mt Yotei as you can't appreciate Yotei's majesty from its peak. In addition, Mt Niseko Annupuri has an excellent view along the Niseko Panorama Line, you can see the mountains run all the way out to the coast until they meet the Sea of Japan.

Best part is in summer and winter, you can take the gondola/lifts up to cut much of the climb which makes it much easier if you aren't a regular climber.
Climb the peak in winter and ski the Annupuri back bowl or north face.
Ride the summer gondola up and hike the rest of the way up.
Take a photo or selfie of you and the Mt Niseko Annupuri summit stone.
Climb Mt Yotei in winter (please take a guide and proper equipment) and ski into the crater at the top.
Climb Mt Yotei when it's warm and have a picnic at the top.
Snowshoe around Lake Hangetsu.
Go on a night snowshoe tour with NAC.
Cycle around Mt Yotei.
Participate in the Niseko Classic.
Participate in the Hanazono Hill Climb.
Ride an electric motor-assisted bicycle.
Using a stand up paddle board, paddle to the island in the middle of Lake Toya and back (ensure you have proper life-jackets and safety plan in the event of an emergency. Do not attempt if you are not a strong swimmer).
Day Trip Challenges
Niseko is located in one of the most exciting parts of Hokkaido. Not only is there plenty to see and do right in Niseko, staying in the area puts you in perfect striking range to visit a number of incredible places.
Take a photo of Ando Tadao's Hill of Buddha at the Makomanai Cemetery when the lavendar are in bloom (Hint: They bloom in July)
Have lunch at Lake Toya's Windsor Hotel (2008 G8 Summit was held here).
Spend a lazy day on the water at Lake Toya, bonus points for bringing a stand up paddle board.
Watch the demons and ogres dance through the streets of Noboribetsu—visit the town during their Jigoku Matsuri (Hell Festival).
Find the safe part of the geothermal stream in Noboribetsu's Hell Valley and dip your toes in.
Become a ninja at Noboribetsu's Edo Jidaimura.
Take a trip out to Sapporo's Royce Chocolate Factory.
See just how blue Shakotan Blue really is.