Top 7 Reasons Spring Skiing In Niseko Is Great
We've put together this list of the top 7 reasons we for which love skiing and snowboarding in the springtime!
Spring skiing is great! As Niseko's biggest claim to fame is the incredible volume of quality powder snow that falls in winter, the spring skiing season is sometimes glossed over by those looking for a skiing destination—we want to change that!
We've written about why you might want to choose spring over winter and discussed the advantages of traveling to Niseko in spring, but today we want to discuss just why skiing in the springtime is great! Check out our list on some of the many virtues of spring skiing.
Amazing Views
If you are a fan of scenic views, skiing is an awesome activity which can help you find some really great vantage points. It's always a bit of a wait as you're riding up the gondolas and lifts, but it is truly worth the wait, especially in the springtime. Being so high up on a mountain top or even just halfway up the slope, you really are hedging your bets to catch some breathtaking views.
In Niseko, the scenery is particularly stunning. Not only are their sweeping lowlands and epic lines of mountains in the distance regardless of which way you look, there is the lonely mountain at the core of the Niseko region. Known as Hokkaido's Mt Fuji, Mt Yotei boasts that same perfect mountain cone-shape and can be seen from almost any place in the Niseko area.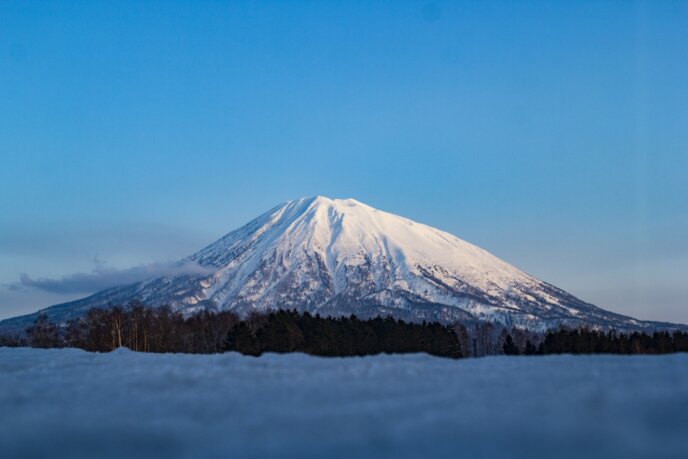 The Best Photos
Love seeing all of those awesome photos with powder sprays and perfect blue skies on our Facebook and Instagram? While many have been shot in the midst of winter, some of our best were actually shot in spring when the skies are clearer and the sunlight is stronger. It continues to snow here in Niseko well into March and April and while there aren't as many big dumps, but all it takes is one to set up a perfect photo shoot with blue skies and deep powder in the spring season.
If you are planning a trip to Niseko in the spring, don't forget your camera! If you have multiple lenses and are keen to gone on a photo shoot or two, bring them all along as you will find interesting photo subjects all over the place in Niseko!
Good Visibility
Without good visibility, enjoying the amazing views that Niseko has to offers and snapping great skiing photos becomes a lot harder. During the peak winter season, it tends to snow almost every day. While all that snow is amazing to ride, it means that you often can't see the views or more than ten meters in front of you! For beginners, the increased visibility during spring is a real game changer for confidence while learning to ski or snowboard.
The visibility is something you will appreciate off the slopes, too. Waking up to a sun slowly rising over Mt Yotei is something that will warm you to your core. The added daylight lasts longer into the evenings which makes the days feel longer.
Warmer Temperatures
As spring sets in, the weather starts to warm up. The later into the spring season you get, the warmer the weather becomes. For those who aren't used to cold winter temperatures, this can be a real advantage. The warmer temperature makes the biggest difference when you are on the slopes. While it might only be -2 degrees Celsius at the bottom of the mountain, it could be several degrees colder when you get up to the peak and this will feel amplified on a windy day. So if it's a nice warm spring day with temperatures around 4 degrees Celsius, it will be perfect up at the top of the mountain, even if there is wind.
Don't worry, Niseko United's Grand Hirafu Ski Resort stays open throughout the month of April. Many of the slopes do start to shut down as the month moves along, but the last run and lifts operate until the end of the first week of May.
Open Slopes
As guest numbers drop across March and April the resort starts to feel bigger as you have more of the slopes to yourself. Even though some of the lifts might stop operating and some runs might close down, you will typically have plenty of room to manoeuvre and this is a good thing regardless of your level.
If you are a beginner, you have more room to make slow and gradual turns. As an expert, you will have all the space you want to pick a line and run it hard!
Slush is Fun
Contrary to what you might think, slush is pretty fun! It can even be a good opportunity to improve your ability level on the slopes. In early spring here in Niseko, there won't be much slush to look forward to up the slopes, but as April rolls around you will start to find more and more on the warmer days.
Snowboarding through slush can feel a bit like surfing due to the watery texture. This can be pretty exhilarating for anyone who has ever surfed and for experienced riders who haven't. Having to get used to the different texture can be a good challenge and can help you to improve your overall skill level as you have to adjust your balance and speed to the new conditions. Falling down in the slush is also a bit easier on your body compared to hard ice or packed snow; although Niseko's powder snow during winter's peak might be softer!
When all else fails, the warmer weather is perfect for lumping together a snowball and tossing it at your friends and family! Just be careful not to hit any innocent bystanders!
Best Time for Terrain Parks
Spring is the best time for terrain and trick parks as the visibility means you can navigate the park with less risk of making a mistake due to not being able to see. It can be harder to stick a landing in heavy snowfall as judging distances becomes trickier the lower your visibility is. The warmer temperatures also mean you can shed some of your layers, leaving you a bit freer to move and bend, grab and flip.
Of course, it also means that when you hit the terrain parks your cameraman friend will be able to snap shots that much easier! No risk of his or her lenses getting blurred up with snow and plenty of natural light to make for quality photos.