Acorn - The Epitome of Sophistication
A feast for all the senses, Acorn restaurant has arrived and is set to shake up the Niseko dining scene.
From the moment you walk in to Acorn, in Hirafu's lower village, you feel like you've entered another realm. Seemingly miles away from the frivolity of a typical ski-resort, could you be in down-town Tokyo? Or mid-town Manhattan? It almost feels like you're in a movie scene! 
This is stylish, sophisticated, conceptual fine-dining. The food, whilst incredible, is just one part of the flowing, synchronized, multi-sensory experience that is Acorn Niseko.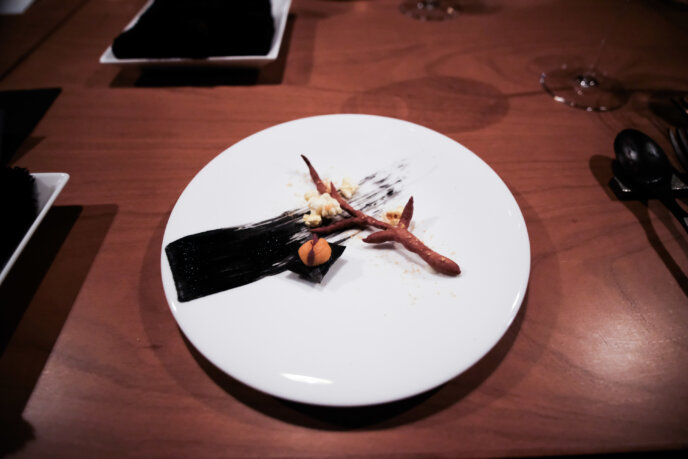 Every dish is a piece of art, meticulously designed and with a story of its own, a chapter within the greater tale that is the 9-course set menu. It's little wonder that Acorn label their menu, 'The 2018/19 Winter Collection', calling cues of cat-walk fashion and gallery art. 
The moody, softly-lit space surrounds an irori (traditional Japanese earthen pot) which gently steams over charcoal. The crockery and cutlery, both made of wood, and the delicate glassware give the dining table a tactile element. These are thoughtfully made pieces, for you to touch, to interact with and they add to the experience. 
The smells of the food are as important to this concept as the taste. Take for example, the truffle oil infused soft-boiled-egg which is served as part of a deconstructed carbonara. The moment your knife penetrates the egg, the fragrance of the truffle oil is unmistakable and fills the room. This is a signature dish borrowed from 81 Tokyo - the acclaimed restaurant established by Acorn's Creative Director, Takeshi Nagashima, and Head Chef, Yoko Aoyagi. Washed down with a glass of '08 Vintage Dom Perignon champagne, this dish is one you'll remember for a long time to come. 
Many Niseko restaurants deal exclusively in Hokkaido produce, and understandably so given its global reputation and undeniable quality. But at Acorn, the concept is slightly different. If there is a Hokkaido product available which meets their high standard, then they will use it. But if they can get a better product somewhere else, they do, and they are unashamed about it. Chicken from Kyushu for example, beef from Kobe, and wine from France and Italy. It's a refreshingly honest approach and ultimately means the chef puts only the best taste combinations on your plate and in your glass. 
Other dishes in the set menu include Squid Ink Crackers, Croissini and Popcorn designed to resemble a Niseko tree sprinkled with snow; Trout Sashimi with Saffron Mayonnaise, served with strawberry powder frozen to -196 degrees; Shirako (cod roe) matched with a paired sake from Japan's Fukui prefecture; Chargrilled Sawara (Spanish Mackeral) with apple pieces and apple puree; and an artfully deconstructed Tiramisu for dessert. 
Each dish is paired with wine or, for those who'd prefer, an equally-considered pairing of Japanese teas, including one which is house-made. 
The music, like the final piece of the sensory puzzle, seems to be tailored perfectly to the culinary experience too. Low-key and lounge-y, it gradually picks up tempo as you progress through the meal, reaching a crescendo as you devour the last mouthful of wagyu beef before slowing down again as your waitress appears with dessert plates in hand. 

Open for the winter 2018/19 season until the end of March, it doesn't take a sixth sense to predict that, in Acorn, we have a Niseko game-changer. 

Check out our guide to the Top Budget-Friendly Lunches in Niseko.