Development News in Niseko-Hirafu
Take a look at the various ways you can get involved in Niseko and what the current projects are bringing to the table.
Despite unrest in markets around the world, Niseko is still booming with larger numbers of tourists than ever before and new developments on the cards.
Niseko is growing faster than any other ski resort in the world, but also leading the way in Japan when it comes to land prices.
And in a country where properties typically depreciate in value, the capital gains being made in some properties in Niseko are making the rest of the country stand up and take a deeper look!
Construction confirmed - Skye Niseko
Due to open in Summer 2018, Skye Niseko was released for sale at the end of 2015. I spoke to Lucas Fuller of developer Summit Properties who told me that construction will start in Spring this year.
"Skye Niseko has been overwhelmed with interest having sold 40 of the 96 units since launch 6 weeks ago, with investors snapping up this property for it's on-piste location and high level of finish," commented Lucas, whose sales office is in the Hirafu 188 building on Hirafuzaka. "A second release of 25 units has just commenced, with construction set to start as soon as the ski season ends this year."
As with AYA Niseko and Ki Niseko, the ski-in ski-out location demands attention - at Skye Niseko this constitutes elevators taking guests directly onto the piste leaving a gentle glide to the King Pair chairlifts. The fit out and service promise is setting expectations of a new benchmark in Niseko for a condo-hotel property.
Find out more online at www.skyeniseko.com or contact Craig at Niseko Realty for more information on what is likely to be a short-lived phase 2 of sales!
And have a look at the video below to see what all the fuss is about!
First online - AYA Niseko ready for Winter 2016
Ski-in ski-out to the Family Pair lift, AYA Niseko is due to be completed in time for opening in Winter 2016.
When I asked Ben Kerr, President of Niseko Real Estate, he told me 70% of the units are already sold. While those sales are largely down to the location, Ben couldn't stop talking about the art gallery that will be placed within the building.
Development have often focused on cramming as many (sellable) rooms in as possible, maximising development profit, but investors are now looking for something that makes a property stand out from the crowd - an art gallery should fit that bill!
If you're interested in finding out more, check out the virtual tour of the building here.
And of course the latest news about the lifts bodes well for even better access to the mountain from the doors of AYA Niseko!
Land is the way to go!
It's not all about apartments in the top of the village though, there are plenty of other investment options out there.
Each year Japanese TV News crews descend on Niseko when the annual results of land price movements are released. For of them it's impossible to understand why a little town in the countryside in Hokkaido is seeing greater land price increases than Tokyo or Osaka.
So perhaps your dream is not to own a small piece of a big property, but to build you own dream house on your own plot of land.
If that's the case, you could do far worse than something like this. A few minutes outside the main village but with protected views of Mount Yotei in a beautiful little development...priceless. Keith at Taiga Projects can no doubt tell you more.
Multi-million dollar house in an exclusive development? Yes please!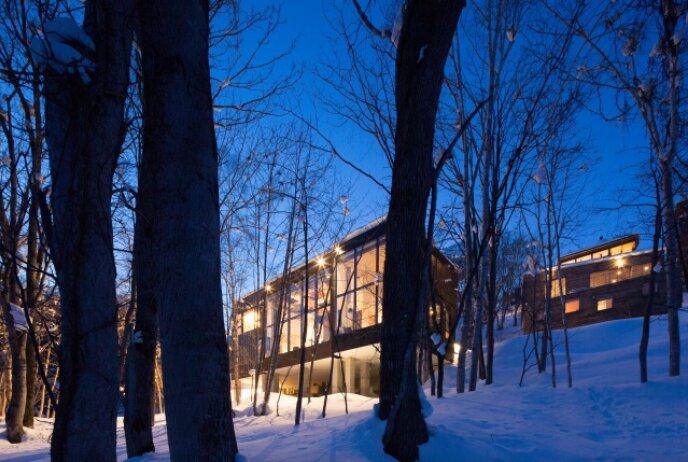 Go Kisetsu - Upper Village development due to start this summer
Major developments are not all about ski-in ski-out though. Go Kisetsu will begin ground work this summer aiming for a 2018 opening.
This two-building hotel will sit in the upper village above Yama Shizen and is planned to have 160 units ranging from studios to penthouses. Grant Mitchell, CEO of Niseko Property, explained that there will be onsen as well as extensive retail and restaurant space.
Find out more at www.gokisetsu.com
Investment ... for the sake of investment!
A new option on investment has cropped up with HTM, the largest property management company in Niseko. They've received final building permission for a block of nine 3 bedroom townhouses with a garage in Izumikyo Hirafu.
The idea is to kill two birds with one stone - offering people a very low buy-in to Niseko while at the same time solving the ongoing issue of staff accommodation. And they've come up with something pretty unique!
Guaranteed returns for 10 years, a townhouse in Niseko at the end of it and the chance to jump on the Niseko bandwagon at a very different price point to anything else!
Preliminary interest has been strong and contract and final details are due in early March
Another Hirafuzaka Development?
While there is nothing concrete yet in place, rumours continue to abound regarding development of the land plot directly below the Alpen Hotel. We understand that sales of this condo development will not start until after completion, but expect another ski-in ski-out onsen development on the Family Run soon! We heard Winter 2017 was the plan for opening but nothing appears to be set in stone at the moment.