Highlights From Sapporo Snow Festival 2017
Never been to the Sapporo Snow Festival and thinking about going? Here is a bit of what to expect on your trip in for the festival.
This year's Sapporo Yuki Matsuri (Snow Festival) was the 68th time that the event had been held since it's humble origins in 1950. With literally hundreds of snow sculptures ranging from one or two meters in height up to multistory mega-sculptures, the event has become a global tourist destination. Since it's first appearance, the event has grown to sprawl from end-to-end of Sapporo's Odori Park, expanded to the Susukino nightlife district, and most recently the addition of Tsudome (the Sapporo Community Dome). Although we didn't get down to this year's Susukino and Tsudome locations, they are always spectacular locations as well!
The festival draws support from the Japan Ground Self-Defense Forces, local government agencies, and a range of corporate sponsors and brings in millions of sightseers each year. In recent years it has gotten to the point that hotel reservations during the dates of the festival are both quite expensive and incredibly hard to make. For this reason, many guests to the Niseko area find it advantageous to go in to Niseko for a single day and evening, catching one of the last trains or taxis back to Niseko.
Sapporo Snow Festival 2017 - Odori Site - Blocks 1 to 12
Block 1 Venue (1-Chome)
Set right under the Sapporo TV Tower, the large orange and green tower with the digital clock interface, is the J:Com Square and Skating Rink. Try on a pair of skates and go for a few laps of the J:Com skating rink. If you are keen on an iconic photo to remember, head up Sapporo TV Tower in the evening and take a snap of the event from above from Block 1 to 12.
Block 2 Venue (2-Chome)
The second block of the Odori site features a large Ice Sculpture as well as several smaller displays. The square is sponsored by The Hokkaido Shinbun Press (Newspaper). Their ice sculpture design came from a contest for elementary students across Hokkaido. The challenge was to design their "Dream House".
After receiving hundreds of imaginative sketches and descriptions, "The Whale House" was chosen. It can be steered from within, like a submarine, allowing the family who lives there to enjoy under-the-sea-camping whenever they wish.
Apparently, the added bonus is that instead of water, it sprouts an apple tree from the water spout atop the whale's head. Talk about imagination!
Block 3 Venue (3-Chome)
Sponsored by Shiroi Koibito, a popular sweets company from Sapporo City, the Big Air Park is the main feature of Odori's Block 3. The massive jump structure is visible from just about every direction. There are showtimes throughout the day when riders compete in different categories.
Skiers and snowboarders as young as 10 years old hit the massive jumps. Flips, spins, corkscrews and grabs, you are bound to see an impressive display from all of the riders coming down. For many of them it is a pretty big deal to make the competition, so you can bet they will be giving it their all.
Don't worry if you miss one of the shows, you can still swing by and catch a video of highlights from last year's contest and even that is impressive enough!
Mogul Skiing Highlights from 2016
Snowboard Highlights from 2016
Block 4 Venue (4-Chome)
Block 4 features an impressive statue of a pair of characters from the popular Japanese video game franchise Final Fantasy by the gaming company Square Enix. The scene depicts characters Cloud and Sephiroth, from Final Fantasy VII, clashing in an epic battle. The two characters are the main protagonist and antagonist from the 7th installment of the long-running game series which pitted an underdog team of environmentalist rebels against a large corporation draining the planet of all its resources.
During the daytime, the sculpture is just one more impressive display in a long line of many, but at night the scene is brought to life with a special music and projection mapping light show. Check out the YouTube clip below of the full light show.
Block 5 Venue (5-Chome)
The Totto Shotengai (Totto Shopping Street) is set up and promoting this upcoming summer's, August to October, 2017 Sapporo International Art Festival. The piece is embodying a famous Japanese personality, Tetsuko Kuroyanagi, and is particularly exciting in the evening when the TV 'turns on' with images from around Sapporo projected onto it's screen.
Feeling a bit hungry? There is a spread of food stalls from around Hokkaido surrounding the open square in front of the ice sculpture of the Taiwan's Taipei Guest House, which was built in 1901. Make sure you come by in the evening as it is lit up with brilliant colours and often features live music performances among others.
Block 6 Venue (6-Chome)
The pictured piece above is the official mascot of the 2017 Sapporo Asian Winter Games. The cute character's name is 'Ezomon' and he is a flying squirrel. He is based off of the Ezomonga squirrel, a subspecies of the Siberian flying squirrel, which is native to Hokkaido. The cute snow sculpture of him was sponsored by the Sapporo City Board of Education and sculpted by a group of students from Hiragashi High School.
Hokkaido Food Square:
In the same block is a large Hokkaido Food Square where you can sample and enjoy a range of authentic Hokkaido foods. Whether they are Hokkaido renditions of Japanese and foreign foods or truly foods which originated in Hokkaido, you can be sure they will be a delight.
Block 7 Venue (7-Chome)
Created by the Japan Ground Self-Defense Forces, this massive replica of Paris' Arc de Triomphe was created in the Hokkaido Broadcasting Company Square. The HBC Square traditionally hosts international monuments or other international pieces with the intention of creating a space for deepening international friendships and understanding. This year, the square has been deemed the HBC France Square. In the past, the square had featured a range of countries from the United Kingdom to Egypt to the Phillipines.
Located not far from The Arc de Triomphe is the smaller Anipop Club sculpture. While not as large, it is a good one to take photos with kids!
Block 8 Venue (8-Chome)
Block 8 features one of the massive sculptures that have been put together by the Japan Ground Self-Defense Forces. It took a total of 31 days and the efforts of almost 4,000 JGSDF personnel to finish the sculpture in block 8.
The 13 meter high snow monument is a replica of The Central Golden Hall (Chukondo) from the Kohfuku-ji temple complex in Nara. The current temple was built in 710 and is one of the many ancient temples in the city of Nara. The Chukondo, for which this sculpture is dedicated to, is scheduled to reopen after reconstruction in 2018.
Block 9 Venue (9-Chome)
The Citizen's Square 1 is composed of dozens of local citizen-teams coming together with designs and creating smaller statues. Typically you will find a range of popular animated characters, the occasional famous building, and pop-culture icons often make their way in, too.
We saw many renditions of the Japanese comedian Piko-Taro who recently became an internet sensation with his "Pen-Pineapple, Apple-Pen" (PPAP for short) song and dance. In case you missed out on this online gem, we have it linked for your convenience!
Beyond this year's PPAP-craze, there were all of the usual Pikachu, Mario, and Doraemon statues you would expect to see and a handful of other popular characters.
Block 10 Venue (10-Chome)
The mega-sculpture of the year was Star Wars themed this year, like the one two years ago in 2015 which had featured an imposing Darth Vader and some storm troopers. Each year there are several monolithic snow sculptures put together and they can have subjects ranging from fictional characters to celebrations of locations and events and real people. This year's Star Wars sculpture celebrates Star Wars' 40th anniversary and is truly a sight to behold.
Throughout the day, TV icons broadcast live from the event and the statue's wide stage. We caught a troop of Okinawan dancers performing in front of the sculpture when we passed through. Events on the stage front are scheduled throughout the week and you are almost bound to catch something during your circuit of the Odori site.
Block 11 Venue (11-Chome)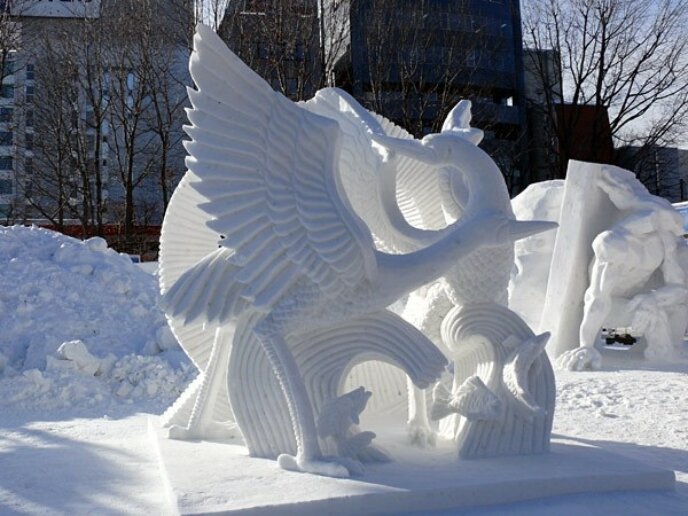 With 11 teams from around the world, it was fierce competition in this year's International Snow Sculpture Contest. Swing by block 11 to check out the results in person, or see the results and statues online here.
If you are in the area and admiring the many sculptures put together by the international competitors be sure to check out the International Gourmet Corner. Unlike the other food areas, this area focuses on foreign cuisine and can often be an excellent opportunity to try something new or something familiar if you are craving something from a place that is a bit closer to home!
| Sculpture Name | Team Country | City | Placement |
| --- | --- | --- | --- |
| Opera-chidna | Australia | | |
| Soaring | Korea | Daejeon Metropolitan City (Sister City) | |
| Existence | Finland | | |
| Dancing in the Clouds Hawaiian Style | USA | Hawaii (State) | 3rd |
| Mother's Love | Indonesia | | |
| Wooden Dreams | Latvia | | 2nd |
| Crane Dance in Spring | China | Macau | 1st |
| Pressure | Poland | | 4th |
| Portland | USA | Portland (Sister City) | |
| Paper plane. Let's Fly | Singapore | Singapore | 5th |
| The Art of Muay Thai (Thai Boxing) | Thailand | | |
Block 12 Venue (12-Chome)
The final block is the second Citizen's Square and features an additional burst of local creativity, hard-work, and winter spirit!
While the smaller sculptures put together by many of the local groups lack some of the finesse that many of the massive monuments and international pieces might have, they provide a unique snapshot of Japanese culture. Some years characters like the PPAP-singing Piko-Taro are massively popular and other years you will find a range of characters from a popular animated TV show or some other new icon. If you don't live in Japan and are keen to find out what is popular this year, chances are someone has tried to sculpt it at the Sapporo Snow Festival!