Price Drop For Winter 2017/18 In Niseko
Early bird accommodation bookings are already open for next winter and many resort services will be coming soon!
It is hard to believe that it is March already! It feels like it was only a few weeks ago that December rolled around, although that might also be due to the amazing snowfall we had at the start of the month! Even though spring is fast approaching, the skiing season here in Niseko isn't over yet. If you are in the mood to get some extra runs in before the season does wind down certain lifts remain open here until the first week of May!
If you have already packed away your skis for the season and are looking toward next season, we have good news for you: rates have started to be released and it looks like this coming season is going to have drops, price freezes and bigger early bird discounts.
Accommodation costs for 2017/18
Most accommodation providers release their winter season rates between the months of March and May. From what we have seen with the early rate releases, prices have come down from this past year and early bird discounts have gone up! More incentive to book early and lock in your travel dates.
Service costs for 2017/18
Additionally, service items appear to be stabilizing this year. We have confirmed that both the All-Mountain Pass and the Grand Hirafu Pass will not be increasing in cost from last year to this year. This is the first time it has flattened out in the last four years!
It also appears that rental equipment and ski lesson costs will be following these projections as well. We spoke to Rhythm Snowsports who have confirmed that their rental prices will remain the same this coming year and their early bird discounts will be released soon. In addition, GoSnow has told us that their group lessons will be dropping in price this coming year. They expect their finalised rates will be released around the middle of April.
Currency exchanges are favourable
Around this time last year, currency exchange rates hadn't been altogether too bad. For many countries, the summer months leading up to this past winter season were saw significantly unfavourable exchange rates. Of course, not every country was affected by this, but take a look at the charts below yourself to see how the rates at the moment are compared to last year during the summer and around this time of year.
AUD to JPY
SGD to JPY
HKD to JPY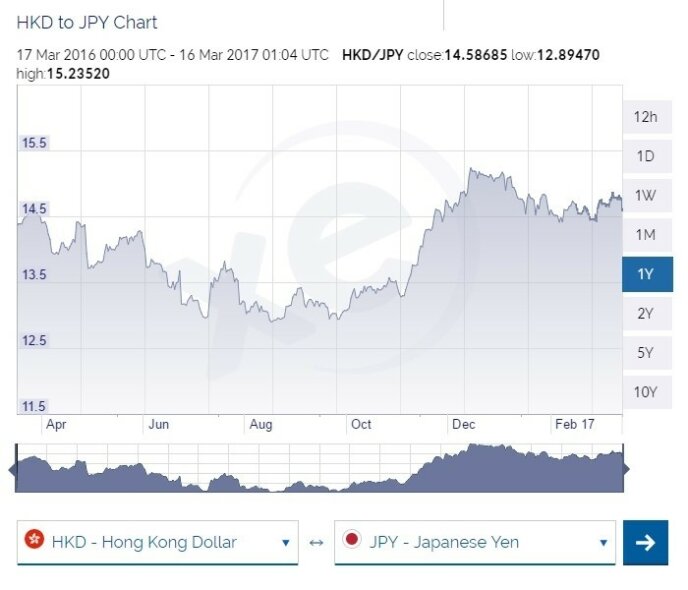 USD to JPY