Touching on Traditions and Making them Modern
One of Niseko's many great attractions is the endearing taster of Japanese culture and traditions.
Japan is a land of striking contrasts and the blend of traditional and modern is what makes it such a memorable destination. While there are numerous unique cultural phenomena across the country, here is a quick guide to several modern traditions you may notice in Niseko.
Ageless Aesthetics
Creating beauty in the ordinary is a core Japanese tradition and one of the things which makes the country such a delight to explore. This flows on to a number of other traditions and values, including the concepts of Kawaii and Wabi-sabi (an acceptance of transience and imperfection).  Aesthetically appealing elements are apparent across Niseko, from gentle jazz music playing aloud in outdoor public spaces, to chopsticks being designed with delicate detail, to premium presentation in food dishes.  
Beautiful Bonsai
Belonging to the Japanese tradition of admiring aesthetics, bonsai are artistically sculptured plants, often taking half a century to reach their miniature sized maturity. Bonsai plants are an art form fused with special cultivation techniques. More than just cute trees, Bonsai also express intentional wabi-sabi values through asymmetry and poignancy. They can be spotted as ornamental displays inside many of Niseko's cafes, restaurants and galleries, including several at Kumo Restaurant.  
Terrific Toilets
When nature calls in Niseko, you're in for a remarkable restroom experience! Once again appealing to the strive for aesthetics, convenience and attention to detail, numerous lavatory elements meet the criteria. This includes modesty music in the form of classical songs or constant flushing sounds to mitigate unwanted noises, seat warming technology, automatic deodorisers and smart settings to achieve the ultimate hygienic escapade. TOTO is the household name for these tech-savvy toilets, and they've been progressively developed since the early 1900s.  
Bestowing a Bow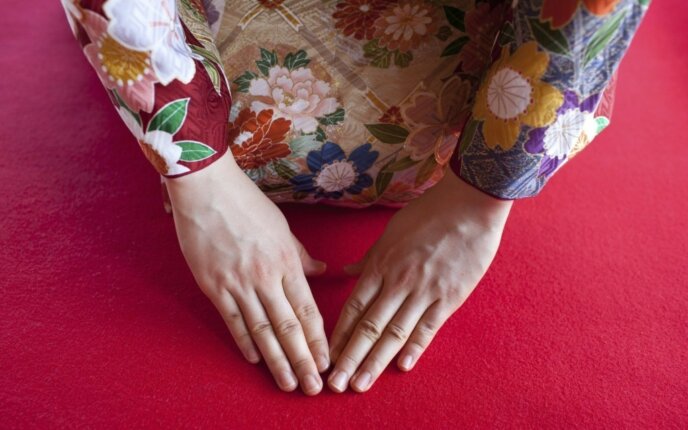 There's no need to take off your winter woollies and shake hands here! It is customary to bow when meeting friends and strangers alike in Japan. Bowing is also a body language which varies in intensity of expression. For example, a deep bow can accompany an apology or showing respect for an elder, a shallow bow can show gratitude and a small head nod can indicate an informal greeting.  Historically, the tradition of bowing is believed to derive from Buddhism and samurai culture. 
Outstanding Onsen
Soaking up warmth and geothermal mineral goodness is a traditional pastime in Niseko, and one we still love to indulge in after a day on the slopes! A few things will strike foreigners as being different here and most notably, the total nudity required in hot springs. Observation of onsen etiquette is expected but trust us, your comfort zones will quickly expand to include this super relaxing and leisurely Japanese practice! Most pools are gender segregated and for the ladies, it is also common to see towels placed over the head, perfectly balanced so they don't touch the water. While excessive noise is discouraged, onsen bathing is also a light social activity for many locals. For more inspiration, check out our Niseko Onsen Guide here. 
Kawaii Culture
You would be hard pressed to miss all of the adorable features and cute characters around Japan and Niseko is no exception! From local mascots to endearing construction cones, there is plenty to inspire your affection and curiosity. Read more about Kawaii Culture in Niseko.
Swapping Shoes and Slippers
It can be easy to miss but do keep an eye out for signs requesting shoe removal in garment changing rooms, restaurants and restrooms. There will often be designated communal pairs of slippers to use when moving between public and private spaces. This footwear etiquette has a practical element in Niseko, where no one wants trampled ice melting off snow boots! Plus, it gives you an excuse to pick up some fluffy, fun design Kawaii socks! 
--
For more Niseko highlights, check out why it is the World Capital for Night Skiing.