Hokkaido's First Craft Gin
Benizakura Distillery comes to Niseko to introduce Hokkaido's first craft gin to the world.
Benizakura Distillery is the first gin distillery in Hokkaido and dedicates their brand '9148' to making craft gin using botanicals from Hokkaido. With a strong desire to introduce Hokkaido's first craft gin to the world, Benizakura Distillery partnered with An Dining to host a gin tasting event in Niseko. 
As an international resort, founders of Benizakura Distillery believed Niseko was the best place to introduce the spirit to guests outside of Japan. Their craft gin, '9148' is inspired by George Orwell's novel 1984, based in a dystopian society where bad tasting gin becomes a metaphor for a controlling society. '9148' aims to create delicious gin which symbolise freedom of thought.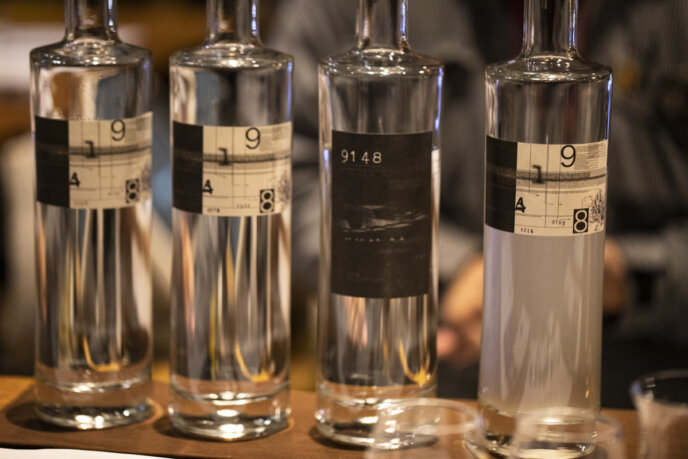 Introducing four different types of gin at the tasting event, Benizakura Distillery brought along their most popular spirits; Standard Umami (0101), Sapporo Limited (1922), Nigori Yuki (0103) and Premium Apple (4101).

Each type of gin is especially crafted to showcase Hokkaido as a region. Using botanical from the area such as Hidaka kelp, dried radish and shiitake mushroom, Standard Umami (0101) has a spicy after taste perfect for the cold winters in Hokkaido.
Sapporo Limited (1922) is created with only 10 selected spirits to represents Sapporo's 10 wards. It is also made to 42% alcohol which symbolises the 42 north latitude of Sapporo City.  
Made from Hokkaido's white birch sap, Nigori Yuki (0103) is made once a year during the winter season with a rich and bitter flavour from cacao. The alcohol also interestingly changes from clear to cloudy white depending on the temperature.    
Premium Apple (4101) is made from apples grown in Hokkaido and apple mint from Benizakura Park. The mildly sweet tasting gin has a strong aroma from the mint and fragrant apple. 
To complement the craft gin, An Dining which is famous for Hokkaido fare made special canapes for the event. Their bartenders were also on hand to make a range of tasty martinis from the craft gin. 
To try the craft gin, head to An Dining, located 1F Ki Niseko.