Calling All Host Families!
Hokkaido International Foundation is looking for host families in the Niseko area to help host a group of exchange students coming to Niseko this summer!
Hokkaido International Foundation seeks to promote language and cultural exchange across Hokkaido. Located in Hakodate, the offer a number of Japanese language and culture exchanges for international visitors and also run English immersion programs for Japanese natives. Niseko being a centre of international activity, has become the go-to location for HIF's summer English camp.
The camp runs for a total of seven days, six nights. The majority of participating children are from the Kanto area and are school children between elementary school grade 1 and junior high school grade 1. The camp aims to put the children in contact with people with international perspectives and situations that facilitate English communication.
For the first three nights of the stay, the children will be staying in a hotel, but from the 9th - 12th of August, 2017 they will be staying with a host family. Families of two people, where one member is an international English-speaker (does not need to be from a native English-speaking country) are eligible to host one or more children.
Please see the poster below (only available in Japanese) for further details: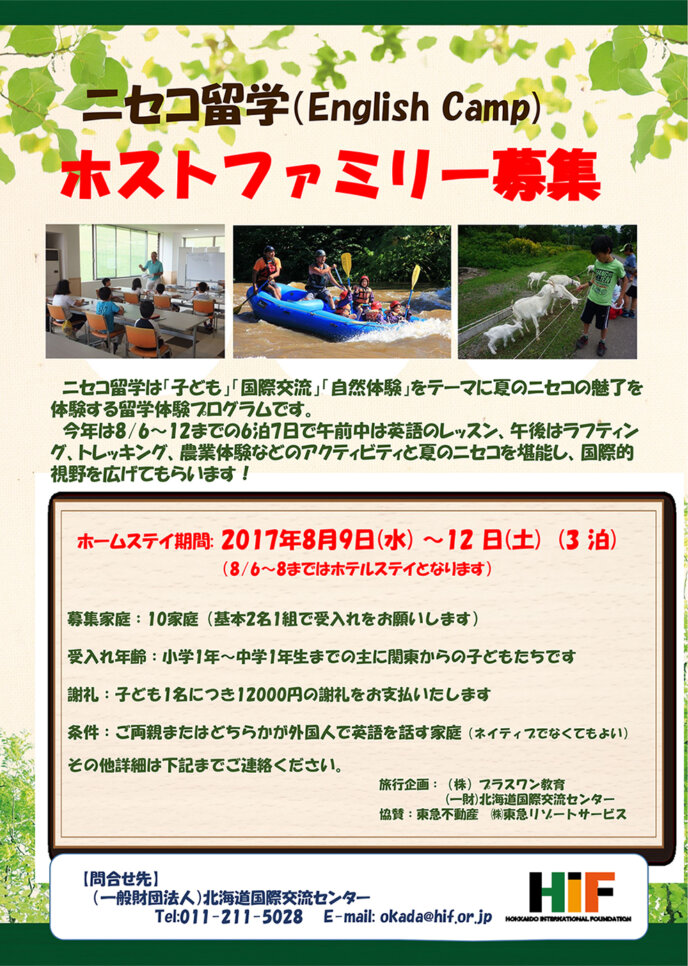 Hokkaido International Foundation Contact Information