Experience the thrill of night skiing in Niseko before it's too late
With only one month left to enjoy the incredible slopes and stunning views after dark, Don't miss out on your chance to ski under the stars.
The countdown has begun and there are now only 28 days left of night skiing in Niseko!
All four resorts that make up Niseko United are open for night riding this year, so you can enjoy a variety of terrain and lifts that remain open after dark until the final night of Sunday 19 March.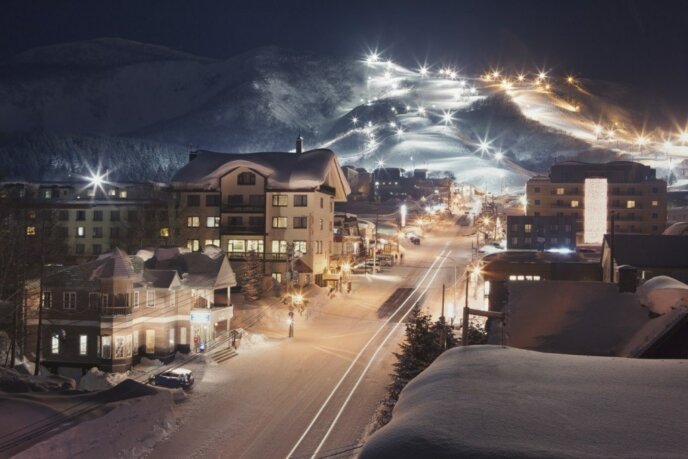 Night skiing in Niseko is an absolute must for any winter holiday
With the powdery snow and the extra layer of clothing, you can make the most of your time in the mountains after dark. Night skiing is available every night, weather/wind permitting. See the table below for a detailed list of lifts and times:

| Resort | Lifts In Operation For Night Riding | Time |
| --- | --- | --- |
| Annupuri | Jumbo Hooded Quad Lift #1 | 4:30PM - 7:30PM |
| Niseko Village | Community Chair, Bonzai Chair | 4:00PM - 7:00PM |
| Grand Hirafu | Ace Family Quad Lift, Ace Quad Lift #2 (Center 4) | 4:00PM - 7:00PM |
| Hanazono | Hanazono Symphony Gondola | 4:00PM - 7:00PM |
There are several reasons why this final month of Niseko's night skiing should not be missed.

It's the best in the world - or at least, that's what we think!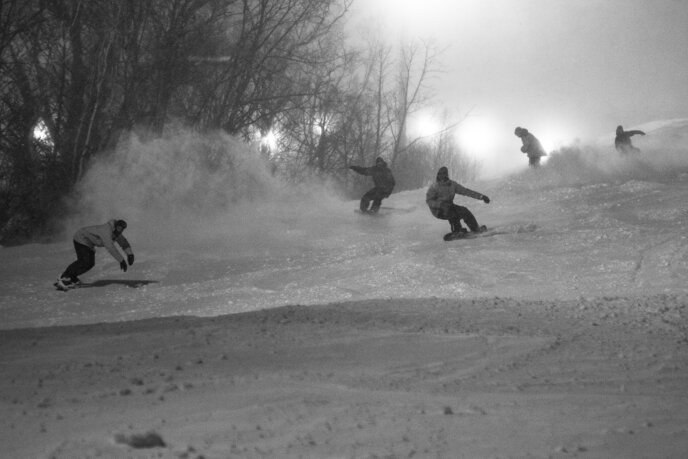 Niseko is renowned for having one of the largest illuminated night skiing areas in Japan, with floodlights illuminating many major runs on the mountain.
The floodlights are so powerful that they even penetrate through the trees, providing experienced skiers and snowboarders with plenty of opportunities to explore further after dark.
Great visibility
It's hard to believe that visibility could be better at night than during the day, but that's often the case in Niseko. When the powerful floodlights illuminate the slopes, they not only cut through the fog but also reveal the bumps, and tracks that may be missed in the grey afternoon. Night riding is the perfect opportunity to hone your skills in the moguls.
Less Crowded
Night skiing in Niseko is one of the resort's best-kept secrets, offering a unique opportunity to experience the slopes in a peaceful and serene atmosphere. On some nights, you will have the slopes virtually all to yourself. Enjoy the peacefulness of the mountain as you wind your way down a run under moonlit skies.

Basque in the twinkling lights of Hirafu from above
On clear nights, you can admire the twinkling stars and the glittering lights of Hirafu from above. It's a breathtaking sight; you often ski or snowboard past people taking a break to admire the lights. On exceptionally clear evenings, you can even see all the way to Niseko Village from the Grand Hirafu runs.

Variety of terrain and lots of snow
Practice turns on beginner green runs or challenge yourself on the variety of red and black runs available at night. Strong floodlights also illuminate wooded areas between run, so the opportunities for a different run each time are endless.

If Niseko's night ski slopes are different from others, it's simply the quality of the snow. The nights are cold and Niseko boasts a steady and intermittent snowfall, which means more often than not you can enjoy the smooth fresh tracks - even at nighttime.
Treat yourself to a hot meal or warming beverage after your done
What's a great way to top off a fab night of riding? You finish your final run and you are steps away from some of the best eateries and bars that Hirafu has to offer. Reward yourself for all that hard work on the slopes and indulge in a delicious treat!

Still need convincing?
Check out this video of Olympic Gold Medallist Kaitlyn Farrington tearing up the slopes, night skiing directly from her room at ski-in ski-out luxury hotel Skye Niseko.