Farm to Fork with Executive Chef Shinichi Maeda
With a well-earned reputation as one of Niseko's best produce-inspired contemporary restaurants, An Dining is synonymous with fresh, Hokkaido produce, vivid presentation and palate-pleasing flavours.
In its fourth year, An Dining has been featured by World Luxury Restaurant and is well patronised by gourmet lovers from Thailand, Singapore, Hong Kong  and more. The man behind this culinary excellence, Shinichi Maeda,  is a multi-award-winning chef with a cult following,  stemming from his life working in some of Australia's top restaurants. We caught up with the Executive Chef and Owner of An Dining to chat about his philosophy and the dining establishment.
Shinichi Maeda's approach to cooking embodies the Japanese philosophy of mottainai, meaning "to not be wasteful". "I try not to waste anything. It's not about using only the best part, I want to use everything," Maeda says. Maximising the ingredients he is given to the fullest, Maeda gives a simple example with the common Japanese vegetable udo. "Many people will only eat the middle and throw away the leaves and outside. What we do here is we peel the skin, shred it, pickle it and make udo noodles or roast it. With the leaves we make tempura. It's the same vegetable but different textures are created," Maeda explains. Growing up in a traditional Japanese household in rural Hokkaido and helping on the farm, Maeda developed a strong appreciation for seasonal produce. 
"It was very normal for me to see the vegetables, to pick it and eat in the farm. We pick whatever we need for the day and obviously we don't waste," Maeda says. "I appreciate the produce because I know how long it takes, how it is grown from one season to another. Collecting seeds for next year as a kid, I understood that every vegetable  is precious." Limiting waste, the celebrated chef also works hard to change preconceptions of seasonal catch and produce throughout the year. "In summer, [fishermen] have a lot of monkfish with slightly smaller liver, no fat and more collagen but it doesn't mean it's not good. There is a way to eat. The chef's job is to make something tasty," Maeda says.
Working creatively with seasonal produce, Maeda is the first to make monkfish caviar while using the rest of the fish to make zangi (deep fried dishes) and salsa. Surplus is always repurposed in unconventional ways to showcase Hokkaido's world-renowned produce. Serving such hyper-seasonal Hokkaido fare, Maeda's connections with local farmers and fishermen allow him to source the best, which has been critical to An Dining's success. 
Working with over four organic farms in Niseko and more around Hokkaido, he regularly visits amidst the busy kitchen life. "I visit the farms myself every week, two or three times in the early morning. I ask farmers and fishermen a lot of questions and see the produce." Having spent over 12 years abroad, Maeda recalls his experience returning to Hokkaido and establishing long term relationships with local fisherman and farmers. "The first year was really hard. I knew no one, no farmers, no fishermen and a lot of people helped me."
Receiving help from friends, Maeda worked hard to make connections with local fishermen and farmers around the region. "In terms of finding the best produce, the second year got better, third year was even better and this year was amazing. Relationships are very important," Maeda says. Today, Maeda is well connected in Hokkaido's agriculture scene and has a deep understanding of the works and  seasonal trends. Ninety-percent of the ingredients used at An Dining are from Hokkaido and 30% are directly sourced from producers.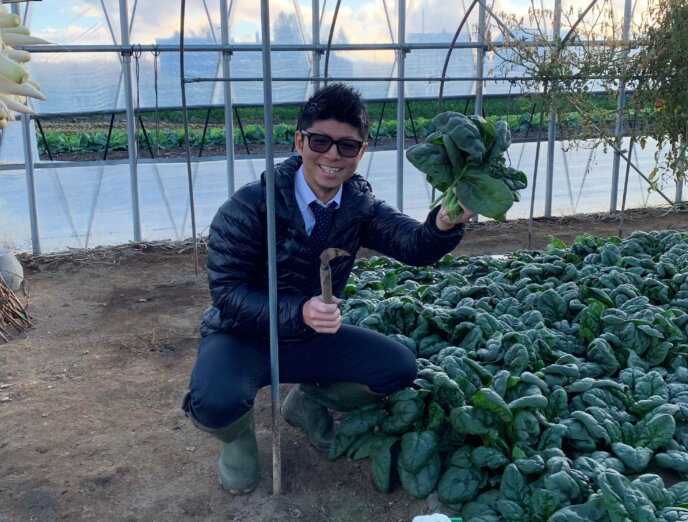 Each year, the varying harvest in Hokkaido and visitors are key elements in inspiring new dishes. With more guests coming from all over the world, menus have been fine-tuned to cater for the palates of international guests. "Almost 80% of Asian customers don't drink, so I have to increase the variety of the course to create more filling meals," Maeda explains. The menus at An Dining are carefully curated to strike a fine balance between using typical Hokkaido produce which is recognised internationally and more unique local produce for guests to learn at the table. "I want to tell the customer who grows it, who catches it and why I use it," Maeda says. 
Showcasing Niseko's beauty through produce and his love for the area Maeda adds, "Niseko is close to the ocean, close to the mountain, and lots of fruit, vegetables and amazing produce." Never failing to astonish, An Dining is a unique culinary experience which leaves international guests fascinated by Hokkaido produce. Amassing such culinary success, Maeda remains humble and is still searching for ways to improve. "I just want to surprise everyone. This is the best way to make people happy, and it makes me happy, being told oiishi (delicious) and arigatou (thank you)!" At An Dining, diners can expect a contemporary Japanese menu filled with innovative dishes in a serene atmosphere overlooking Mt Yotei.
An Dining is open for breakfast, lunch and dinner. Located on the 1st Floor at Ki Niseko.
--
Check out Kutchan Town's summer matsuri, celebrating the potato harvest!